Manage Customer, Staff, Vendor and Visitor Access with a Single Solution
Manage Resources Including Policies Procedures, Surveys, Questionnaires and Diagnostics.
Aggregates Testing and Reporting/Uploading of Results
Provide Digital Validation to Review, Approve, or Reject a User
Awareness Training to Online Education and Training Courses
Receive Instant Alerts Through Push, Text, or Email
Has Comprehensive Dashboard that Track Data Points and Control Risk
Secure System that Manage User Roles and Encrypt Data
Use of Scalable to Provide On Demand Horizontal Scaling
Our partner: Hall Booth Smith, P.C.
A national law firm recognized as a leader in Employment Practice, Legal Compliance, Labor Management Relations, Data Privacy, Security, Professional Liability and Insurance law. HBS is available to help navigate the evolving COVID-19 regulatory, compliance and legal landscape.
Access to Testing
CareStart Covid-19 Rapid Antigen Test requiring no machine
Mobile Detect Bio BCC 19 Test
At Home DCR Saliva Test
And depending upon needs, we can source others for you
Lighting & Sanitation Supplies
SFG Return to Work & Business provides/offers...
lighting solutions to kill molds and viruses
sanitation supplies

Sourcing PPE (Personal Protective Equipment)
SFG Return to Work & Business can supply many types of PPE products on a a regular basis. This includes...
Mask
Gloves
Gowns
Face Guards
SFG Return to Work & Business – 3 takeaways
COVID has changed how we work, travel and play.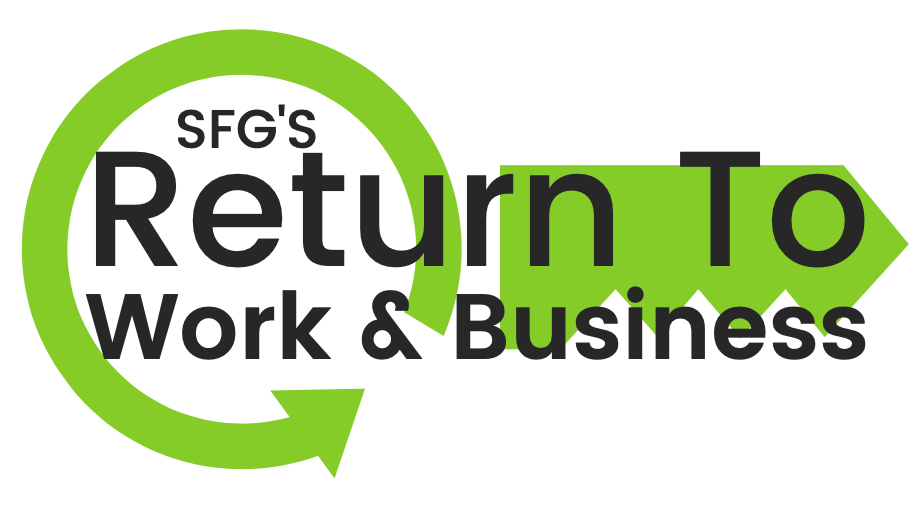 Change is GUARANTEED – SFG Return to Work & Business'  Safentri App and platform quickly and inexpensively adapts as new solutions, standards and regulations evolve into use.
Solutions are needed NOW – SFG Return to Work & Business rapidly deploys comprehensive, customizable protection for people and a hedge of legal protection for companies.
Cost is ALWAYS a factor – SFG Return to Work & Business' Safentri App is a low-cost, month-to-month model provides a predictable, no risk solution that can expand, contract or turn off on demand.