Screen, Test, & Protect to Safely Manage Employee, Customer, Vendor, Athlete and Visitor Access with our Bundled Solutions Outlined Below
COVID-19 Testing is an Essential Component of Any Return-to-Work Strategy
Access to Point of Care Testing Solutions
MobileDetect Covid-19 Testing Technology & Solution - (RT-LAMP)
A new COVID testing technology and solution that can help us turn the corner on this pandemic.
A major part of the challenge that our country & the world is confronted with right now is having a COVID test that is highly sensitive, accurate, inexpensive AND gives a rapid result. Antigen testing has a higher than desirable false negative rate and PCR is too expensive with turnaround times that are simply too long to help us stop the spread of the virus.  With PCR results typically taking 2-5 days or more, an individual can easily be infected (multiple times) in the time between their test and the result being delivered leading to a false sense of security and making it counterproductive to test in this way.  Individuals can unknowingly become "super-spreaders" as they may be positive, but go about their normal activity for a few days while awaiting their results.
This new type of molecular testing uses LAMP (Loop Mediated Isothermal Amplification) technology, which is simply a different DNA amplification process than PCR but with very similar sensitivity (98%).
* This is a molecular test and is billed the same as a PCR test
The key advantages of LAMP Technology over PCR or Antigen are:
Performed with a simple, inexpensive thermo heater and designated as moderately complex by the FDA, so does not need to be performed in a high complexity lab
A 30 minute turnaround time can stop the spread of the virus (can run 8, 32 or 96 tests at a time depending on the size of thermo heater chosen)
Costs are 50-20% of PCR depending on volume
Training is simple and can be accomplished online
Is 100% made in the USA eliminating many of the supply chain issues other tests are confronted with
At the lowest viral load levels, LAMP technology has been shown to be 100-fold more sensitive than PCR making it more protective of public health
Prices Range from $44 per test kit to as low as $16 with volume.

Access Bio's CareStart Rapid Antigen Test
COVID-19 antigen tests are designed for the rapid diagnosis of active infection by detecting proteins on the surface of the SARS-CoV-2 virus (the virus that causes COVID-19) via nasal swabs or similar clinical specimens.  After specimen collection, point-of-care antigen tests take approximately 10-15 minutes to finalize a result.
We have the Access Bio (CareStart) rapid antigen test which is made in the USA and has FDA EUA authorization. This test has a sensitivity rate of 88.4% and specificity rate of 100%. Attached is a sales sheet and the IFU comprehensive overview.
Prices vary from $22 - $17 based on volume.

Salofa Oy Sienna Rapid Antibody Test
The Sienna Antibody test is highly sensitive and specific for IgG and IgM antibodies. The test is CLIA waived, EUA Authorized and manufactured in Finland. (Sales Sheet and IFU coming soon).
An antibody test is a screening for antibodies in your blood. Your body makes these antibodies when it fights an infection, like COVID-19. You may also hear it called a serology test. This same thing happens when you get a vaccine. A small amount of a virus is introduced into your body, and your body creates antibodies to fight the new disease. That's how you build immunity to a virus.
The antibody test isn't checking for the virus itself. Instead, it looks to see whether your immune system - your body's defense against illness - has responded to the infection.
Prices are now just over $10 with a CLIA waiver.

Sourcing PPE (Personal Protective Equipment)
SFG Return to Work & Business can supply many types of PPE products. This includes...
Mask
Gloves
Gowns
Face Guards
Lighting & Sanitation Supplies
SFG Return to Work & Business provides/offers...
Lighting solutions to kill molds and viruses
Sanitation Supplies
We have the App. Accessible tools that introduce individual accountability while providing data and tools to enterprises. Administered to organizations to create responsible policies and manage liability. Review the Introduction & How It Works.

Manage Resources Including Policies Procedures, Surveys, Questionnaires and Diagnostics.
Aggregates Testing and Reporting/Uploading of Results
Provide Digital Validation to Review, Approve, or Reject a User
Awareness Training to Online Education and Training Courses
Receive Instant Alerts Through Push, Text, or Email
Has Comprehensive Dashboard that Track Data Points and Control Risk
Secure System that Manage User Roles and Encrypt Data
Use of Scalable to Provide On Demand Horizontal Scaling
Compliance Oversight by Safentri Legal Partner:
Hall Booth Smith, P.C.
A national law firm recognized as a leader in Employment Practice, Legal Compliance, Labor Management Relations, Data Privacy, Security, Professional Liability and Insurance law. HBS is available to help navigate the evolving COVID-19 regulatory, compliance and legal landscape.
SFG Return to Work & Business – 3 Takeaways
COVID has changed how we work, travel, play & live.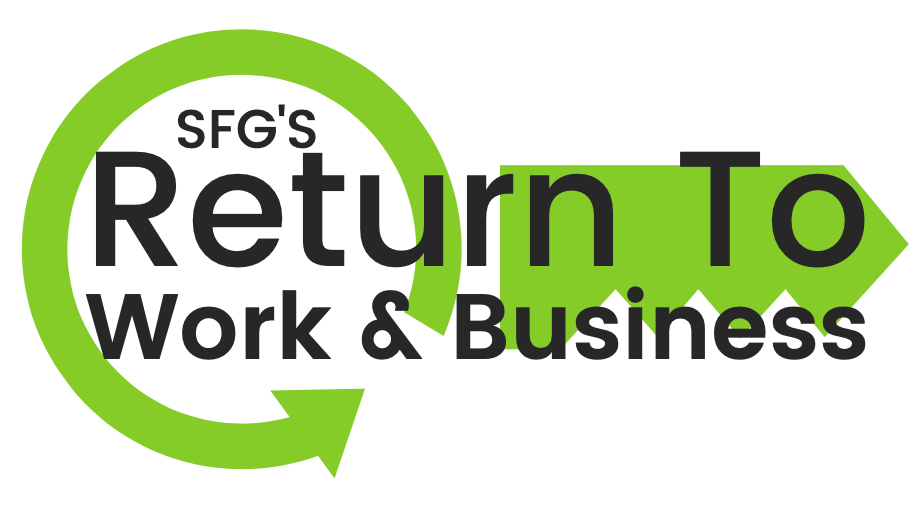 Change is GUARANTEED – SFG Return to Work & Business'  Safentri App and platform quickly and inexpensively adapts as new solutions, standards and regulations evolve into use.
Solutions are needed NOW – SFG Return to Work & Business rapidly deploys comprehensive, customizable protection for people and a hedge of legal protection for companies.
Cost is ALWAYS a factor – SFG Return to Work & Business' Safentri App is a low-cost, month-to-month model provides a predictable, no risk solution that can expand, contract or turn off on demand.
Connect With Us
Do you still have questions? Request information using the form, and we'll respond with the information you need in a timely manner.
Thanks for your interest in our
Return To Work & Business
"Let Us Help You, Schedule a Call"
Email our Doug Field, CEO of SouthField group, LLC